"LORD…all that we have accomplished you have done for us." Isaiah 26:12
God's hand in supplying our need for Special Projects
2021 Update
Farm:
The greenhouse, which was provided by a generous partner in 2020, was so productive we expanded the farm and planted roughly half an acre of vegetables.  This provides fresh produce for all the students, our staff and the local village.  Thirty banana and other fruit trees have been planted.  Also, one hundred sixty hedge trees surround the edge of the property.
Building:
With the completion of the first two floors of the building in 2021, Shalom Learning Center now has their permanent home on the ground floor and the Tailoring Institute is on the first floor.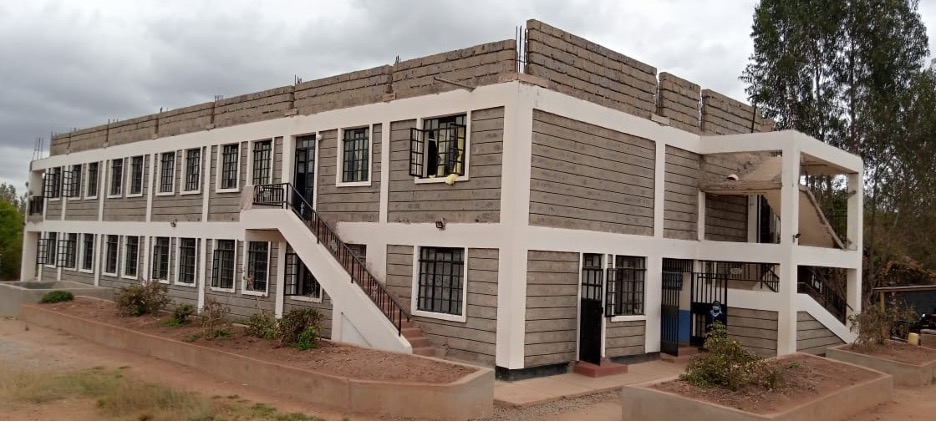 During the 2021 Mission Trip Ilowee was able to oversee the dream of having our mission base all in one location. The mission house, office, Tailoring Institute, Shalom Learning Center and the farm are now all situated on our land. With the well God has richly blessed us with, we have unlimited water; our farm produces abundantly, and our mission base has clean water.  With the three-phase transformer we have reliable electricity, so things operate more smoothly.  Being together as a family has been a great blessing and was possible when we completed the first two floors of our building in March with grateful thanks to you, our wonderful partners, who upheld us in prayers and with funding.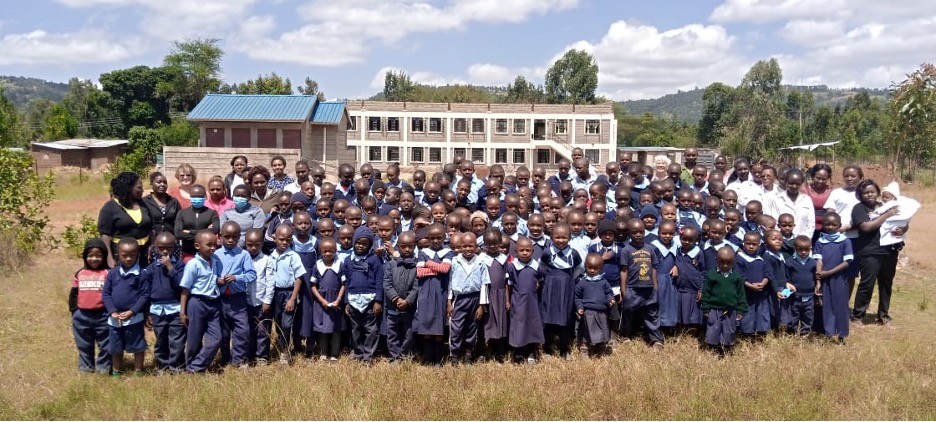 Mission House:
The mission house and Joseph's (Director of Operations) office are now conveniently located on the first floor.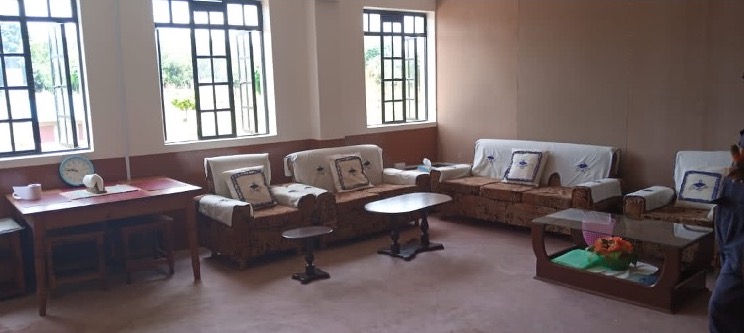 Prayers as we look ahead 2022:
Finishing the building, which involves completion of the second floor (third level) and roof. This floor will provide a large meeting place for Pastors and Leaders Seminars, Shalom school meetings for all students and parents, and community events.
Kitchen and Dining Hall – this is needed as currently the students eat in the classrooms and the cooking area is very limited and outdoors.
Boarding for Tailoring Students who live too far from school to walk
2020: "Come see what God has done…" -Palm 66:5 NIV
March 2020 Update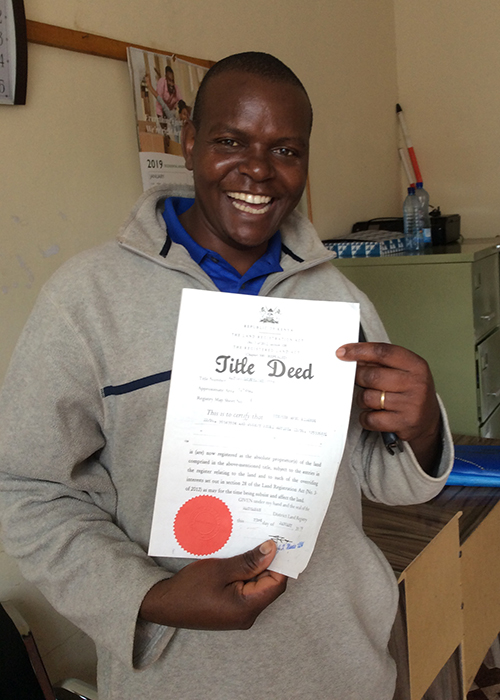 Land: So much has happened in this last year since we received our title deed. Ilowee relates, "God warned me things would go fast but even my mind is struggling to take in all He has done. God has wonderfully provide both health and strength for me, so on April 7 I will again be winging my way to Kenya to rejoice and see first-hand the progress on the building. Pray with me that God will open the windows of heaven and pour us out a blessing so the ground floor can be completed so Shalom Learning Center and all those precious children can move into bright, clean and warm classrooms. God is so faithful and keeps all His promises."
Building: Isaiah 61:10 "I am overwhelmed with joy in the LORD my God." This expresses our feelings about how God continues to guide and provide. The work resumed in January on the new building. The cement for the first two stories has seasoned well, so the foundation for the next story can be added. Those in Kenya join us in praising God for His provision.

Shalom Learning Center: Getting an education in Kenya is not possible for many children. Finishing 8th grade is often all some get to do. For two our Shalom 2019 graduates, Bernard and Grace, however, their dream of going to high school is becoming real through two of our Garments of Praise supporters. They are so very excited and grateful.
What a wonderful step for these two!! God promises to be a father to the orphans and care for them, He also promises to give them their hearts desire.
The students at Shalom Learning Center are happy to start the new school year after a six week vacation. Because so many had been out of the area over the vacation, they started the new year with a delayed Christmas party. They send a big thank you for your support through Garments of Praise; they are feeling blessed.
Life for more than 40 students at Shalom Learning Center improved significantly in 2019 because some individuals chose to share in the expense of tuition, food, and clothing for these children. They have been able to celebrate special occasions such as birthdays with all the students. That means children who had never tasted cake before had the fun of joining in. This is a sampling of pictures of some of the wonderful results. Join us in thanksgiving to God for this wonderful provision.


Outreach of the Gospel: Pastor Patrick and Peter, the missionaries we've told you about, just returned from another mission trip to share the Gospel. This is Peter's report: "We had a successful mission trip to the coast area 373 miles from our village. It is a non-Christian dominated area, but we thank God for raising up several churches. We were able to reach seven newly planted churches and at least 14 people gave their lives to Jesus Christ. We met with pastors of the churches to offer encouragement and training. Pray for these pastors for strengthening and more training. We are praying to return to this area to follow up and help these pastors. Thank you Garments of praise, Mum Ilowee and those who pray for us. Thank you too for the support from Garments of Praise. God bless you abundantly." The pictures reflect Pastor Patrick teaching at one of the churches, a gathering of pastors the missionaries shared with and encouraged, and pictures from two of the churches where they taught.


2019 Update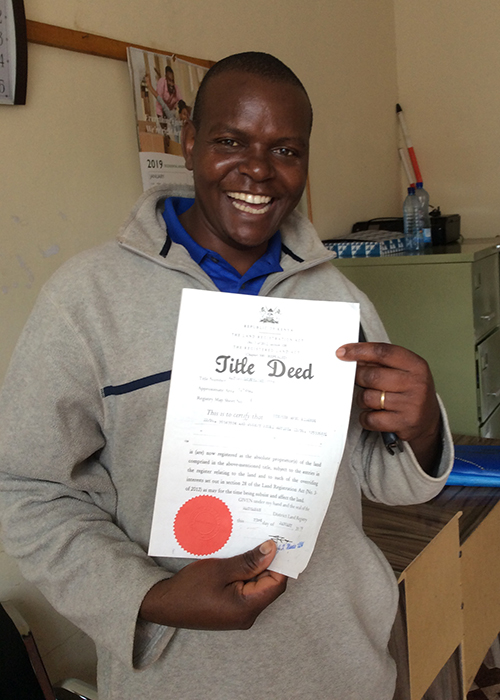 Land: After four years of searching and going through long legal channels God gave us the legal title to just under 2 acres in Feb of 2019. GPFM (Garments of Praise Foundation Ministry, our African organization) started praying and looking in 2014, the first payment was made in early 2017, title was received in 2019.
Well and Electricity: Because of the faithfulness of God and His people a Well was drilled in early June on the property and was dedicated with many from the village attending in August 2019. The abundance of water allows us to supply our mission base and offer water to the village of Manyanzaani. It took perseverance, but God honored and the transformer for phase three electricity was finally installed at the village market in August of 2019, the village leaders were blessed as they also have access to better electricity now.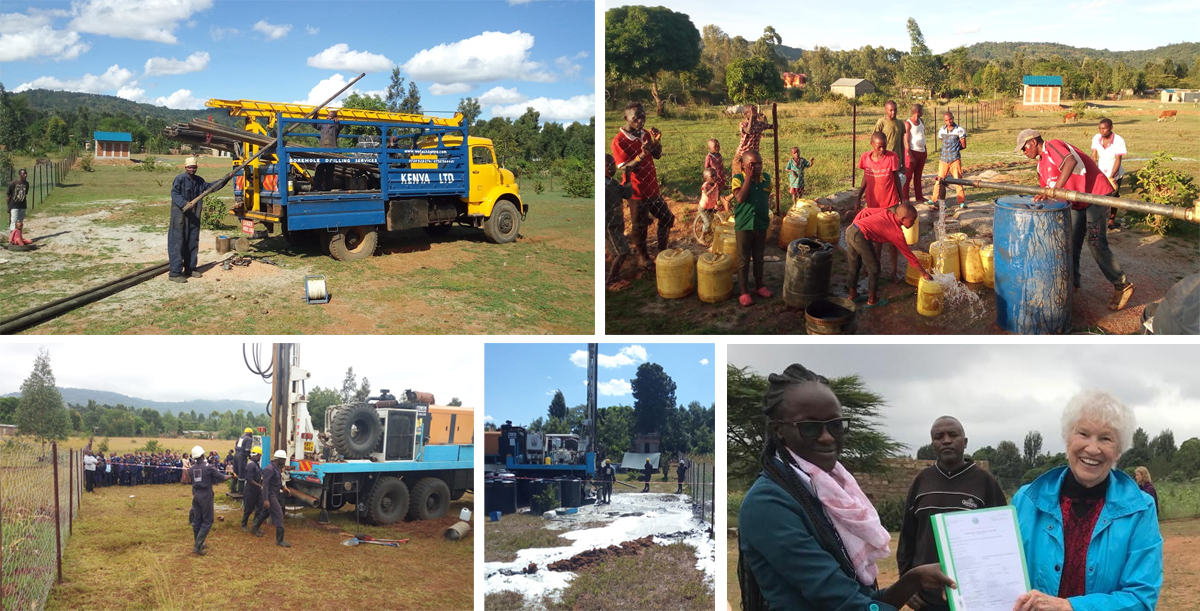 Building: In August of 2019 God favored us with a talented engineer from Tucson to help with design and a builder from Tennessee skilled in all manner of construction work and electrical to guide in choosing the right contractor. This is extremely important to ensure quality of workmanship and that things are done in a timely manner; we are very blessed with our contractor, Fredric.
With legal title in hand, boundaries legally set, electricity, and a qualified contractor; construction of a 90' x 45' three story building was started in early Oct of 2019. Our prayer is to be able to finish the ground floor for Shalom mid-year 2020 and the first floor for Tailoring Institute by years end. Truly our God is amazing and faithful as He honors us "step by step" as we look to Him to supply the many needs associated with this huge undertaking.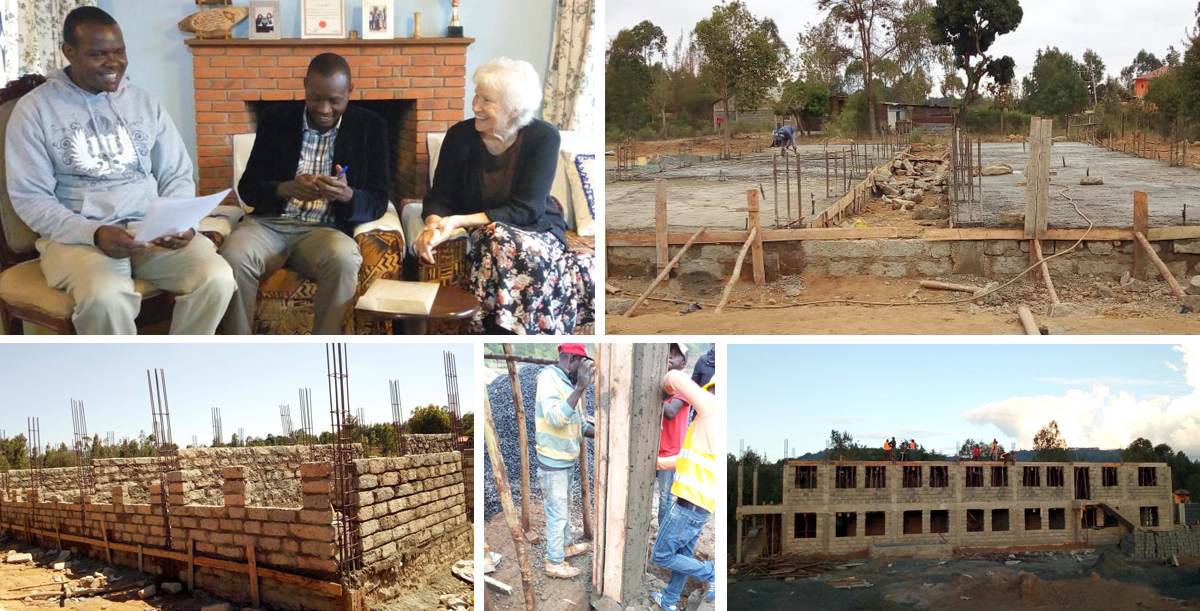 "…LORD all we have accomplished; you have done for us…" -Isaiah 26:12 NIV
2019 God's Hand Supplying Needs for our Regular Ministries
Jesus Cares: God's blessings flowed as He allowed us to build three small houses to replace a collapsed home for Eunice, a young mother of two; a home for Moses and his family, whose house was in such disrepair it was completely unsafe and provided almost no protection from weather and complete a home for a widow who had been working for over 7 years to build her home. Many were given a hand up for food, clothing, tuition to continue school and medically. Joel is now totally recovered after almost 2 years of medical assistance.


Eunice's collapsed house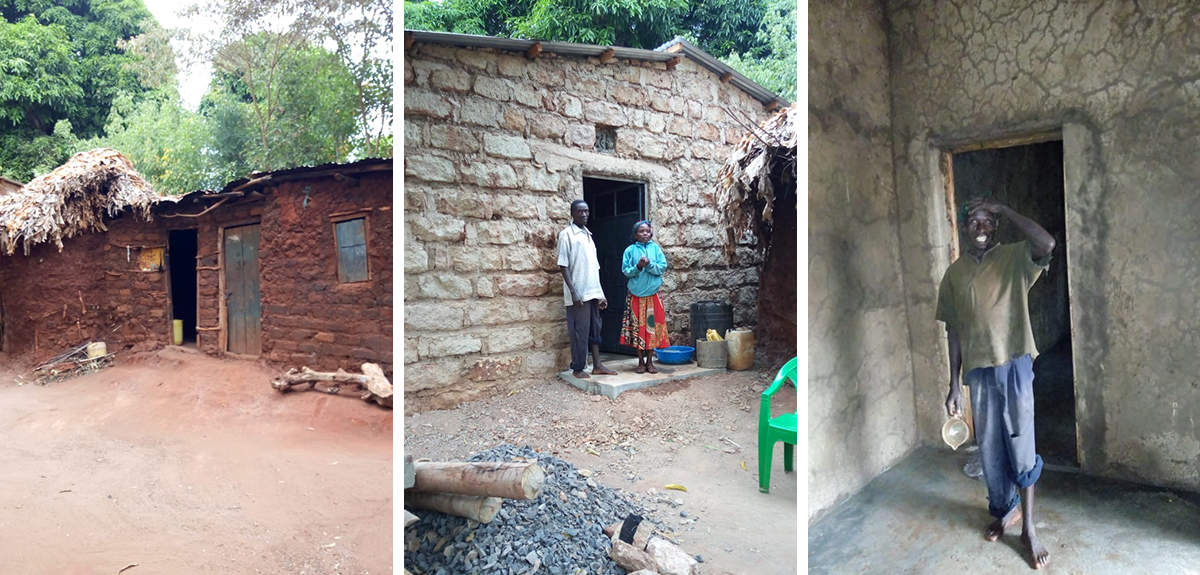 Moses' old and new houses


Maggie's house and Joel
Shalom Learning Center: Because one-person responded to the burden God laid on their heart, many are now helping to bring smiles and encouragement to the entire school. This year has been very blessed with strong consistent support for the children at Shalom. They are having fun celebrating birthdays and able to have food even at home through the generosity of this army of supporters. May God richly reward each.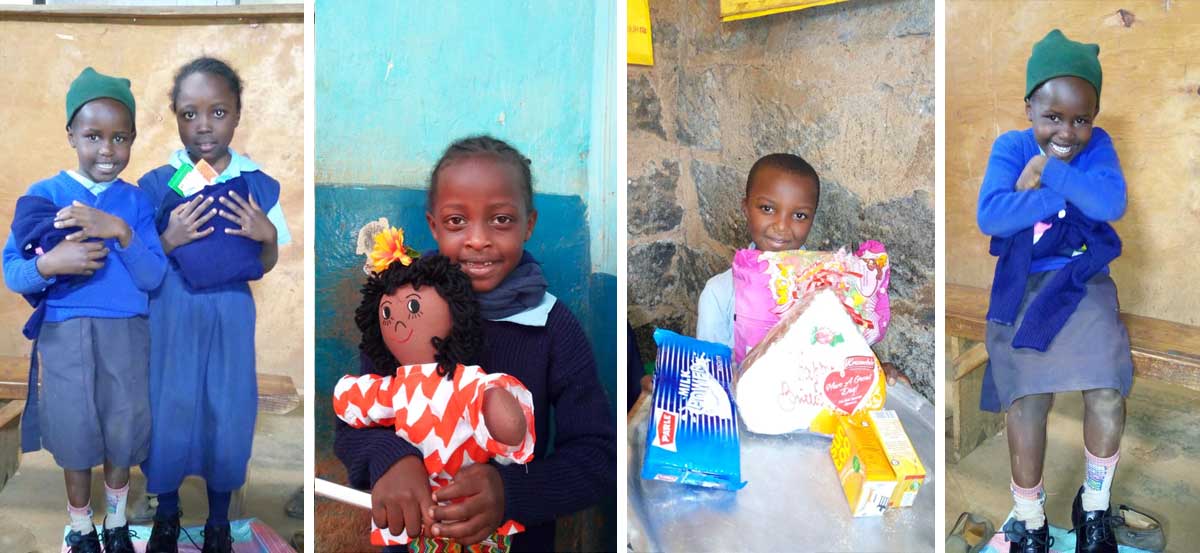 Getting new uniforms with great delight, the children will wear these for several years. Dolls were made by our donors and they bring much comfort as kids seldom have anything of their own let alone something they can hug.


Tailoring Institute: 17 more young people received training by our two highly skilled instructors, thanks to generous donors and one of our graduating students passed her test with the highest marks of students from many schools. Besides our ability to award a sewing machine to the student chosen by the teachers, God also blessed us with supporters who provided several machines other graduates. This is a great blessing as it means they can even start their own businesses or work in their local villages.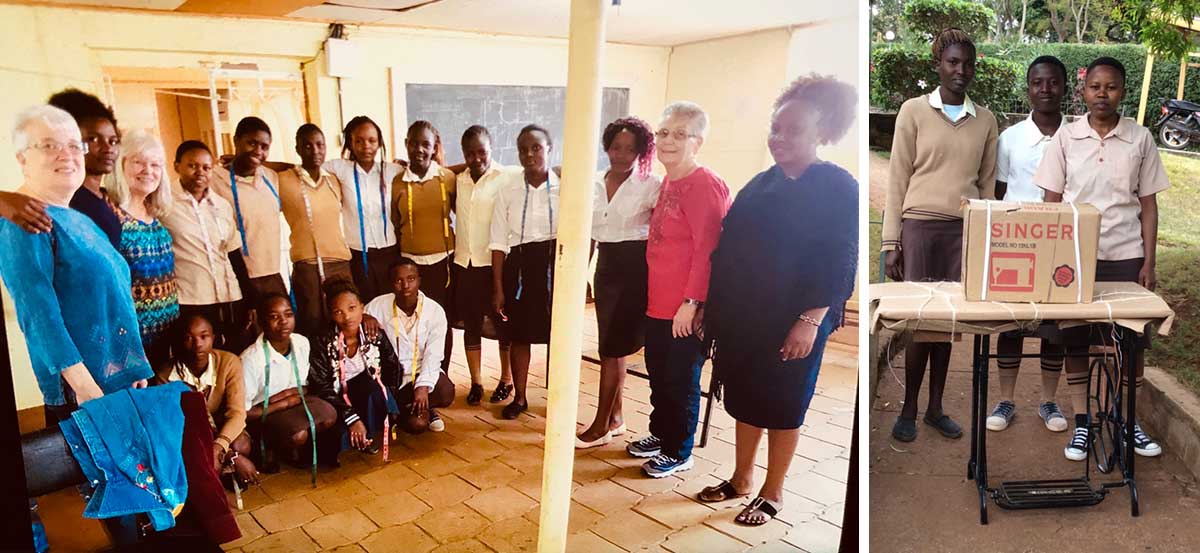 Tailoring students, teachers and tailoring graduates receiving sewing machines
Spring Team: They painted the newly finished homes and sewed curtains for them much to the joy of the families; they held a three-day VBS for 130 kids and a Saturday "Kids Day" for 200 children from Katwanyaa. Many young souls were added to God's kingdom. It was a wonderful time of mixing with the village people showing love both God's and theirs to them. This is such an encouragement to the Kenyans to know they are loved and prayed for.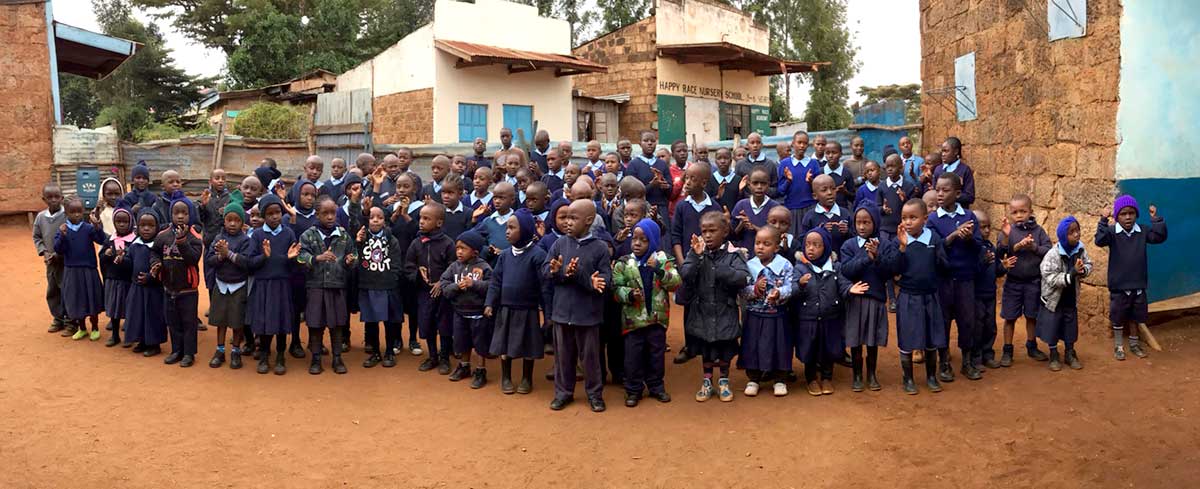 Painting and Kid's Day at Kangundo


Our Spring team and some of our partners
Equipping the Saints: The team in August was outstanding as they gave encouragement, showed great love and shared insights to biblical truths to over 400 pastors and leaders. We were blessed that besides Kenyan and Ethiopians two other countries were represented. We opened this two-day seminar up in a third location this year which really stretched our team, holding three seminars in less than two weeks. It is such a blessing to know one church prays 24/7 during this whole mission trip. The Pastors and leaders were very blessed and are excitedly looking forward to this coming year. The Team also spent time discussing problems pastors face and ways to be of further help as they met with groups of pastors in different areas. Lesson materials are furnished free at each seminar and are highly prized as they don't have access to much study material. Thank you to those who helped with the prayer and financial support of this effort. Heaven alone know the extent of this influence.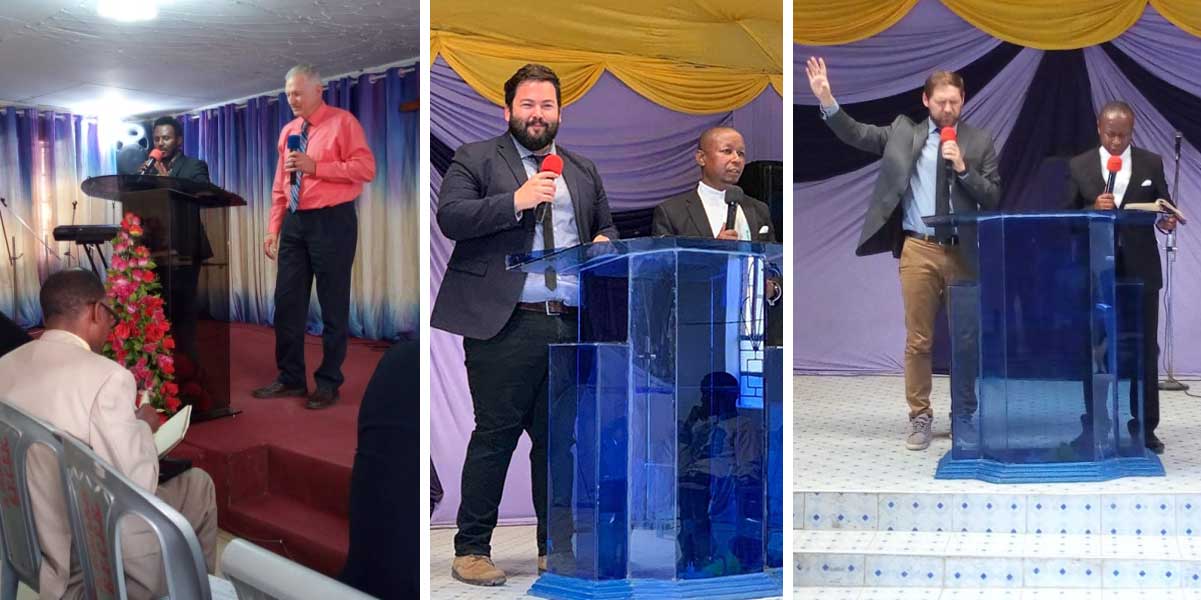 Pastor Tony Johndrow from White Mountain, AZ, Pastor Peter Lopez from Tucson, AZ and Pastor Adam Parson of Orlando, Florida.
Outreach of the Gospel
For the first time GOP partnered with and sponsored others to reach into outlying areas and other African countries.
Two young men spent two-weeks at the Kakuma refugee camp in Kenya where over 185,000 very destitute people from many African countries live. They shared the Gospel and trained Christian leaders under very difficult conditions as this camp is in part of the Sahara Desert and was extremely hot. Their bed was a sheet on the ground and their meals were brown beans and flat bread. But they rejoiced as many were saved when they taught and shared the Jesus Film and almost 100 Christian leaders of the Sudanese portion of the camp came for training in how to share the Gospel. They distributed four large bags of clothing and shoes, donated through GOP, to the children after the bible stories and games.


Pastor Patrick, Peter and Dennis in Tanzania

A trip was also sponsored to an area in Tanzania where some people didn't even know there was a "Bible". It is a village of great witchcraft and demon possession. Three young men shared the gospel through stories from the Bible and did training in "Orality"; a form of sharing the Gospel using bible stories they have memorized and tell them in story form. Over 35 come to the first day of the four-day training. God honored their efforts and many people were freed from demon possession and one girl who was deaf was healed. We are praying God continues this work and will raise young Kenyans to reach all Africa.
AWANA clubs were established both for children and youth in local churches and two schools. G of P is delighted that the Awana training is snowballing as Pastor Paul, a pastor they sponsored with AWANA, continues to hold training. In Donya Sabuk alone 50 Sunday School teachers trained; so far 170 Sunday school teachers, pastor and youth have taken the training to start clubs in 60 churches!!!!
A Youth Center was started in partnership with the AICC church in Katwanyaa, something G of P have been praying for for over four years. The church hosted a Youth Rally Saturday December 14th for over 140 youth. Several of the soccer boys and other members of the youth group had traveled to communities far and wide, even 2 hours away, witnessing and inviting youth to come.