Garments of Praise partners with existing Ethiopian refugee and Kenyan Christian ministries to provide training with biblical seminars and help with tuition to attend Bible College. Many pastors and leaders labor with little more than a zeal to share the gospel. By coming alongside them they are better able to equip the saints for the work of the ministry in their churches.
Equipping the Saints seminar at the Menonite Guest house for the Refugee church leadership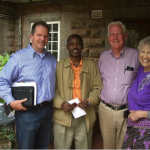 .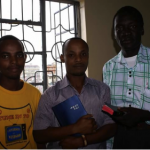 This Refugee Church is located in a district of Nairobi. For over 20 years the pastors have worked evangelizing and caring for the many refugees who are without hope or help. Refugees have seen their family members murdered and their homes destroyed. In desperation thousands fled to Kenya, often walking for days through unknown forests, to seek refuge in Nairobi and are often housed in the slum areas. Because most are young, they have no job skills and are barely able to survive. This depiction serves to underscore the importance of the work being accomplished through this small church.
The pastor of this church is also effective in sharing the Good News with the large anti-Christian population there and is grateful for our partnership to carry out God's love to these dear people and many have been saved. They themselves are very poor and are torn by the terrible plight of how to help the young people. Garments of Praise has been able to secure a hall so that they can have the full-time use of a facility. Having a safe place to witness and minister to people is critical, as Christians have been imprisoned or martyred for sharing their faith in this heavily anti-Christian area. The room is rented on a monthly basis, so this project remains an on-going need.
Many refugees have been saved and taught God's word and as they leave and go to a third country, they are really being "sent" from this church to spread the Gospel.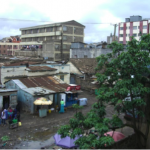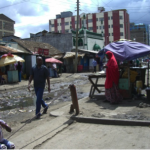 Neighborhood surrounding Eastleigh Evangelical Fellowship.

Seminar at Joska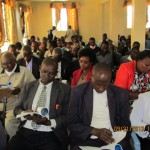 This pastor and leadership seminar was held for the Kenyan pastors in the Kangundo/Tala area with over hundreds now attending.
One of the greatest challenges and most rewarding ministries is our partnership as we help young men desiring to become pastors. Garments of Praise has 11 men and women either through or in bible and biblical counseling schooling. They are receiving a solid foundation in the Bible so they may preach the Good News of salvation and encourage their own people. Over 100 Kenyan pastors and Christian Leaders have been encouraged and strengthened through the bible seminars held.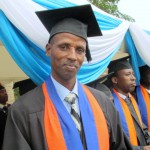 One of our Bible students who has graduated from the two year program and wants to continue further education so he can return to Ethiopia and start a bible college there to train pastors to reach his own people.