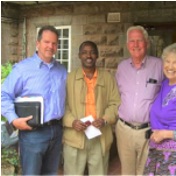 Equipping the Saints came into being when Pastor Troy Stokoe (pictured left with Pastor Samuel and Will and Ilowee Owens) led the 2011 mission team and saw the need to help Pastors to be able to equip the saints in their churches.  The first seminar was held for the Ethiopian church in Eastleigh, a suburb of Nairobi with 20 in attendance. The pastors from this mission team provided teachings and written material to strengthen biblical principles and skills to aid them in equipping the church.

| | |
| --- | --- |
| 2017 Seminar | Pastor Samuel Jarso |
The first seminars were so successful that after two years the Kenyan pastors requested a seminar be held for them as well in the Tala/Kangundo area.  Because pastors and leaders travel great distances we help with transportation and hot meals daily for the two-day seminars.
| | |
| --- | --- |
| Tala/Kangundo seminar in 2017 | Tala/Kangundo Seminar 2013 |
These seminars are greatly appreciated as many pastors have little training in bible school but a great love of the Lord.  Pastor Tony Johndrow, who has led the teams the last six years is greatly gifted in sharing biblical correction of any errors or incorrect theology without offending.  The Mission Teams are careful to stress only what the Bible teaches not what man interprets.
Sunday school teacher and youth worker trainings were added over the years.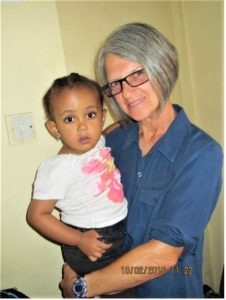 Michaelyn Johndrow (pictured right) brought materials and trained the Sunday school teachers in Eastleigh and the Kangundo/Tala area. A Uganda pastor was overjoyed with the Sunday school materials and training that were provided, as they covered the complete year and were solidly biblical.  This material was unavailable in his area, so we supplied enough for 12 rural churches to take back with him.
We have had pastors from three other adjoining African countries travel to take advantage of this valuable training and the resources.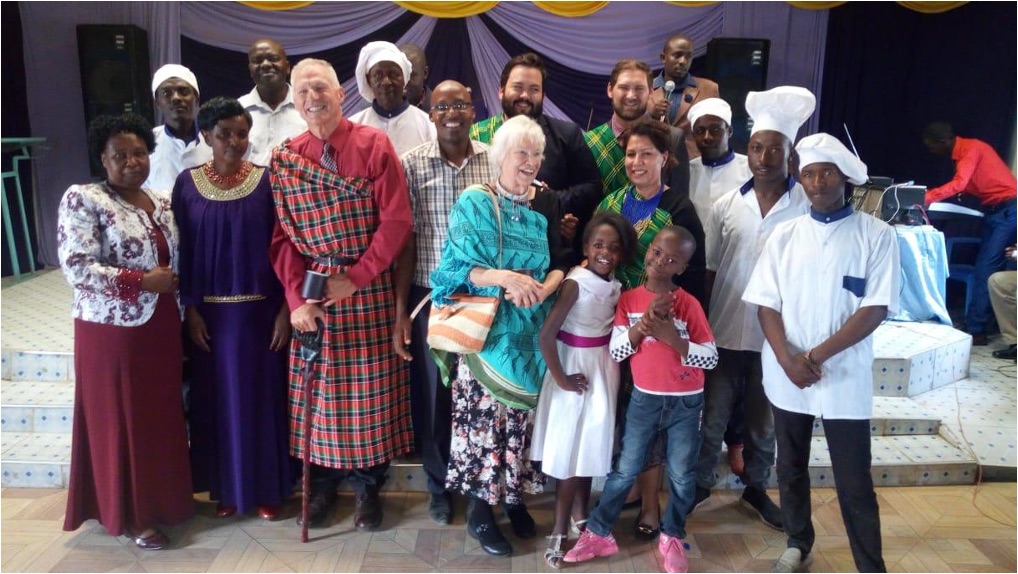 By 2019 Garments of Praise added a third location in Joska, allowing a combined total of over 400 Pastors and Leaders to benefit from sound biblical training, printed materials, and resources.
The Outreach Branch of Equipping the Saints includes aiding a Kenyan pastor, Patrick Ngundo, with travel funds and prayers to share the Gospel in Tanzania, Uganda, and Sudan. John, Chapter 4, is the strength that keeps him going to share the living water with the lost.
John 4:35 Do you not say, there are still four months and then comes the harvest? Behold, I say to you, lift up your eyes and look at the fields, for they are already white for harvest!
| | |
| --- | --- |
| | Pastor Patrick in Uganda October 2021, with the Karamajong community |
| | |
| --- | --- |
| Meskir Alemu and family | It also includes support for Meskir Alemu, a former Bible student we helped through school (shown left with family). He returned to Ethiopia and started a church in March 2021. In the first two months, 27 were saved and the church now has around 100 attending. |
We have been blessed to be allowed to bring The AWANA Program to hundreds of students, in two public schools weekly. The truths from the Bible being taught, is having a big impact upon the daily lives of these children, both for salvation and their Christian walk. Some of them are living in homes where witchcraft and other pagan traditions are part of their daily life. The Bible teaching has brought hope and guidance where there has been none.
| | |
| --- | --- |
| | Pastor Paul, Diane and Bernad are faithful partners in this program. |