It is hard to describe the actual lives of the children at Shalom Learning Center. The children who attend this school would have been forgotten and have no hope for a future without an education. This is a very poor area highly impacted by HIV / AIDS. Before Garments of Praise partnered with Shalom to start a feeding program, many children didn't go to school for fear the little food at home would be gone when they returned. Many students have no place they can consistently call home. They are orphaned, abandoned, and many are often neglected by those caring for them as they are passed from relative to relative. There is little love or real caring shown to them EXCEPT at Shalom.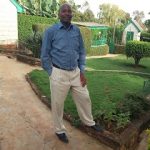 Shalom Learning Center founded by Pastor Stephen Mweu is a school for disadvantaged children. They have been led by God to begin this much needed work, as children are in need of food, clean water and a good education, which has been denied them prior to being able to attend this school. Through support from Garments of Praise the Shalom Learning Center was able to add 6th, 7th and 8th grade classes to their school.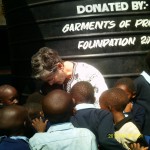 A water storage tank was donated to Shalom Learning Center to harvest rain water providing the children with a free source of clean drinking water. We have also provided play equipment, health support for  eye checkups and for those in critical situations, mission teams to encourage leaders and give children a fun experience that most have never known and support the feeding program for the children.
It is our desire to see this wonderful work grow and obtain land of their own so a new facility can be built to house the growing number of children being helped.   On this property we are also praying for a "Safe Haven" where children who have no real home can be sheltered, loved, cared for and taught God's word.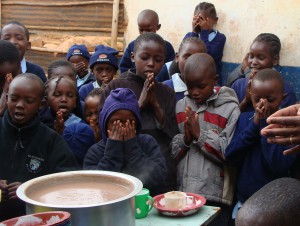 A Feeding program was begun to improve the children's nutrition and we encourage 
Mission Teams to visit as in the case  of Calvary Chapel Tucson.

To learn more about Shalom Learning Center's Project Safe Haven,  please watch this short video.