Tailoring Institute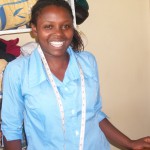 Job skills training in dressmaking and tailoring was first started in 2010 for the often "forgotten" population. We have seen the many lives of single moms, at risk teens, both boys and girls, widows and vulnerable young refuges transformed through learning these job skills at our Tailoring Institute. Since 2010 we have had between 5 to 25 students graduate from this two-year, government approved program.
Self-confidence is one of the great benefits of the training.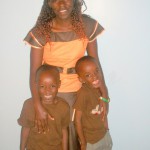 Single moms in rural areas face great hardships without schooling or job skills training. One mother had her child die in her arms because she lacked the few dollars for the medicine that would have saved her child.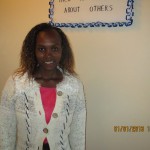 Poverty forces young teens from their homes because they are orphaned or there is not enough food for them and their younger siblings. Young men cannot find jobs because they have no job skills, and this hopelessness produces a high suicide rate among 14- to 19-year-olds in this area. They fall into despair, turn to drink, drugs and crime, with death often the result. Young girls also have little choice; they can work as "house help" where they care for children, collect wood, carry water, cook, and clean or they can marry.
Eunice was an orphan with no hope or job skills the training changed her life.
Because of the dowry system when they do marry, girls as young as 13 are often forced to marry the "highest bidder" (usually old men) and their lives are little better than that of a slave. Men often abandoned their wives for "another wife" and leave them a "single mom" with one or more children to support and no way to lift themselves from poverty.
With your support for the Tailoring Institute, parents now have an option. Their daughters and sons can gain job skills training because we supply food and tuition. We have seen many "happy endings" with our students at our Tailoring Institute.

University and Trade Schools

We sponsor students who are desiring to be trained in various job skills. These include heavy equipment operations, the hospitality industry, and cosmetology. Our university level students have graduated in accounting, electrical engineering, mechanical engineering, automotive engineering, and social economics.
Mitikia trained in cosmetology and was our first sponsored student. She is a wonderful example of how obtaining a job skill can transform a life.