We have established job skills training in Jewelry making, dressmaking, tailoring and embroidery to aid the often "forgotten" population.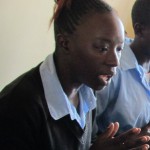 We help vulnerable young refuges who survive in slum areas, single moms, at risk teens and widows who have little hope without a skill to earn a living.
Jewelry:
We provide training in the art of paper beads and jewelry making, to vulnerable young men and women who have taken refuge in Nairobi because their lives are in danger or because of the severe economic conditions in Ethiopia. They often find themselves trapped in the unspeakable conditions of the slums areas where they barely exist with the little they can earn doing random cheap labor or even salvaging stuff from the dump heaps. They are without hope or help.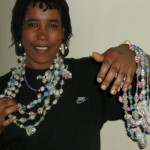 We have provided training for over 20 talented Ethiopian refugee women and men in bead and jewelry making and jewelry design.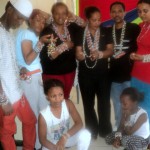 The Ethiopian refugee women have spent their lives just trying to survive, they lack the basic skills needed to properly care for themselves or to function within a work setting. Our desire is to provide life skills training that would aid them in becoming confident members of society and poised for success. We work with the Eastleigh Evangelical Church in Eastleigh who support the spiritual part of this effort.
Tailoring, Dressmaking and Embroidery:
Single moms in rural areas  face great hardships without schooling or job training (one mother had her child die in her arms because she lacked the few dollars for the medicine that would have saved her child).
Poverty forces young teens from their homes because they are orphaned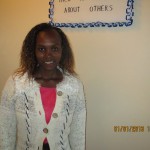 or there is not enough food for them and their younger siblings. Young men cannot find jobs because they have no job skills and this hopelessness produces a high suicide rate among 14 to 19 year olds in this area. They fall into despair, turn to drink, drugs and crime, with death often the result.
Young girls also have little choice; they can work as "house help" where they care for children, collect wood, carry water, cook and clean or they can marry. Men often abandoned their wives for "another wife" and leave them a "single mom" with one or more children to support and no way to lift themselves from poverty.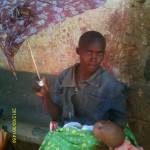 Because of the dowry system when they do marry, girls as young as 13 are often forced to marry the "highest bidder" (usually old men) and their lives are little better than that of a slave.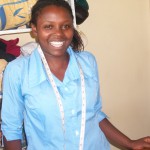 With your support for the Tailoring Institute, parents now have an option. Their daughters and sons can gain job skills training because we supply food and tuition. We have seen many "happy endings" with our students at our Tailoring Institute. In four years we have touched the lives of "at risk" teens, single moms and refugees who before had no hope, but now are seeing their lives changed.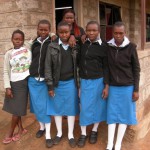 Our first class in 2010 started with just 5 young teens.
The class grew and we had 13 complete the course and become our first graduating class in 2011.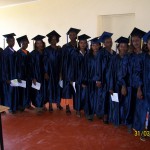 At the close of 2013 we had 25 graduates from the tailoring and embroidery classes. We have seen over a total of 50 lives impacted by this training.