Garments of Praise was brought into being through prayer, guided step by step through prayer and the strength to accomplish the work comes through prayer.
"The one concern of the devil is to keep Christians from praying.  He fears nothing from prayer-less work, and prayer-less religion.  He laughs at our toil, mocks at our wisdom, but trembles when we pray."

Samuel Chadwick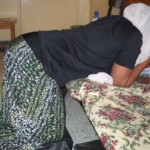 Fully agreeing with Samuel Chadwick, we and our partners in Africa covet your prayers for this work.
"Yet regard the prayer of Your servant and his supplication, O Lord my God, and listen to the cry and the prayer which Your servant is praying before You today . . ."

1 Kings 8:28
Our desire is to share this ministry with God's people to the end that they will have an opportunity to show the love of God according to His word.
"This is how we know what love is;  Jesus Christ laid down his life for us.  And we ought to lay down our lives for our brothers.  If anyone has material possessions and sees his brother in need but has no pity on him, how can the love of God be in him?  Dear children, let us not love in words or tongue but with actions and in truth."

1 John 3:16-18